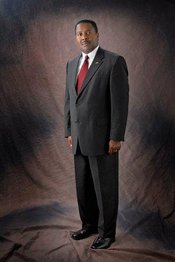 Superintendent James
REGINALD C. JAMES
Biographical Sketch
Reginald James' career in education spans nearly 30 years. His wealth of experience includes teaching, counseling, and administration ranging from the elementary school through the university level. He graduated from Carter Parramore High School in 1970 and holds an undergraduate and graduate degree in Education from Florida A & M University and extensive training in Educational Leadership.
Reginald James is an exemplary educator and community leader who currently serves as the Superintendent of the Gadsden County Schools. Mr. James' leadership has been instrumental in fostering a remarkable turnaround of the academic fortunes of the Gadsden County School District. When Superintendent James took office in November 2004, five of the district's twelve graded schools were rated "F". He immediately unveiled his plan for improvement entitled "Building a Brighter Future" in a State of the District meeting for all employees. His Brighter Future vision was rooted in his belief that education is the key to improving socioeconomic conditions in Gadsden County. He vigorously contends that if Gadsden County students can be retained and graduate from high school in increasing proportions and numbers, the overall quality of life in Gadsden County will improve and the deadly effects of poverty and crime will be diminished.
At the end of his first year, the number of failing schools were reduced from five to just one with 75% of the schools improving a letter grade. The district was ranked the second most improved district in the state. Discipline incidents decreased by more than half, and teachers received their first raise in nearly five years.
At the end of his second year, there were "NO FAILING SCHOOLS" and 54% of the schools improved by a letter grade. Three of the district's schools were listed in the top 50 most improved schools in the state. Increased parent trust and community support also ended the mass exodus of children to surrounding districts. It was the first time in nearly ten years, despite state forecasts, that the district did not lose any students. In addition, Mr. James created an alternative school for students that found challenges in the traditional setting allowing for individualized learning and the opportunity to ensure that no student would be left behind.
Every year since Mr. James took office there have been consecutive annual increases in the percentage of students performing at or above grade level in both math and reading and a reduction of students performing at the lowest levels (Level 1&2) on the FCAT. Superintendent James is a wise and decisive leader that has Gadsden County residents feeling proud about their schools. The community has been empowered by the excelling of the schools leading to a united push to truly Build A Brighter Future.
For his hard work and dedication to education and his community, Mr. James has received numerous honors and awards which include the Book of Deeds Award for Outstanding Community Service from the Quincy Exchange Club, selection to the State Task Force on High School Preparation for Post-Secondary Education by former Commissioner of Education Betty Castor, Outstanding Service Award-Florida Vocational Education Association, Outstanding Community Leadership Award-Gadsden County Men of Action, Distinguished Service Award-Frontiers International, Business and Community Partnership Award-Florida Department of Education, and induction into Florida A&M University's Gallery of Distinction for outstanding work in the field of education.
Reginald is married to the former Betty Roberts (35 years), and they have two children: Angela and Andria both graduates of Gadsden County Public Schools and Florida A & M University. They are the proud grandparents of Alexys, Brakayla, Gene and Brandon.